Mens Cowboy Boots
Do you want an easy way to find the best Mens Cowboy Boots ?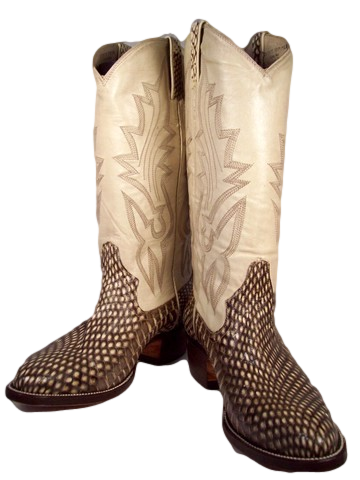 Mens Cowboy Boots
Do you want an easy way to find the best Cowboy Boots for Men? Are you looking for a guide to find top notch cowboy boots?
Do you want an easy way to find the best Cowboy Boots for Men? Are you looking for a guide to locate top notch cowboy boots?
We've got a no-nonsense place for you to decide; whether you're looking for mens black cowboy boots or any other kind of mens western shoe wear.
Sometimes it's hard to decide which mens boot to choose for yourself or for a loved one. Should I buy a Black Cowboy Boot, a Men's Suede or what?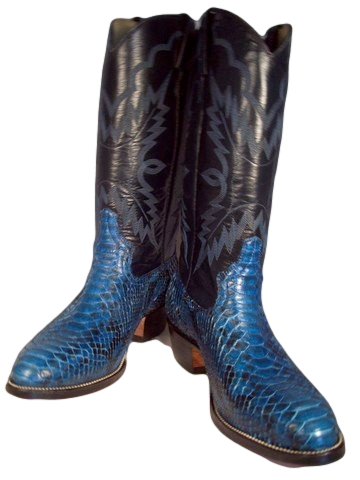 We have set up a few guidelines to help you decide which cowboy boots for men you'll probably be happy with.

We've also setup for you, in partnership with some of the best sellers cowboy boots, an excellent selection of the top picks in one convenient spot.

This way you can select your ideal western shoewear without running all over the place.

So read on for some tips on men's western cowboy boots and even quality cheap mens cowboy boots. 
Points to Consider when Choosing Mens Cowboy Boots:
Fit: 
A good fitting Mens Cowboy Boot is the most important consideration in choosing an appropriate pair of western cowboy boots for men - as it is for anyone. 
If they don't fit: there a lot of cowboy boots around that will fit. 
If they´re too tight don´t try to break them in unless they are only a tad snug.




If they are too big don´t make up for it with multiple socks unless the pair is only a little bit large.

If you are already a cowboy boots person,

one of your well fitting Justin or Tony Lamas will be a good guide to size.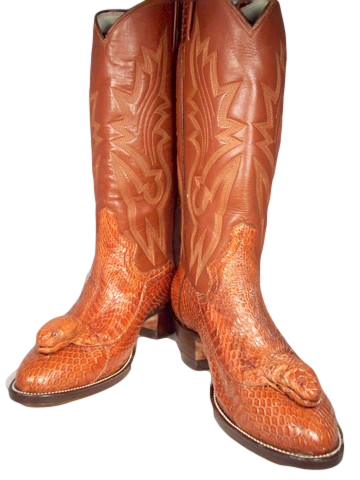 For the newcomer to the western shoe wear there are few extra things that should be taken into account before deciding which cowboy boots for men to pick.

Cowboy Boots feel different from regular shoes especially loafers, sneakers and loose-fitting slip-ons.

A cowboy boot has an arch support and fits snugly around the instep: this is what keeps the boot on your foot.

The shape of the toe should not affect comfort: your toes are behind the cowboy boot toe and shouldn't touch the front toe. An exception, we have found, is when your toes are bunched, overlapping or broken then a full round toe or custom made cowboy boots should be the choice.

If you want the western cowboy boot look but would prefer more of a familiar feel then try Roper Boots. This will probably fill the need. They have a walking heel and a full round toe.

Your regular shoe size can be an indication of what size to select but here it's an approximation in that most cowboy boot makers vary in their lasts. It doesn't deviate much, though, and most of the time you are OK with your shoe measurements.

It is better to go for "too loose than too tight". But only a little loose, as we mentioned before. You can always add a pair of inserts or a thicker sock to make it a "just right fit".

Finally,

as far as Fit is concerned

, we've selected dealers that will exchange an "as shipped cowboy boot" for a different size or give you a refund if they can't fit you.
Shop with confidence at these stores. Tony Lamas will be a good guide to size.
If you are looking for Cowboy Work Boots or just want more information about them, click here. 
Looking for some very impressive U.S. made Alligators? Click below

Top Quality Alligator Boots - Made in the USA!
---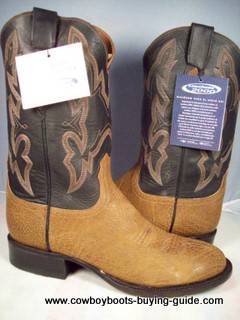 Lucchese Roper Cowboy Boots
Comfort means Good Fit.
If you get a good fit then mens cowboy boots will be very comfortable to wear and enjoy!

Remember, if you want a regular shoe feel try a Roper Cowboy Boot!



Price
There is a wide price range in Cowboy Boots for Men. Everyone can afford a pair.
Under $100 you can expect to find a decent pair. There are a number of good manufacturers that we have included in the stores below.

Between $100 and $200 you can expect to find some of the better makers of mens cowboy boots offering some super leather cowboy boots.

You can get great Used Cowboy Boots.

From $200 up you'll find some of the best cowboy boots. Be sure to look in the stores below.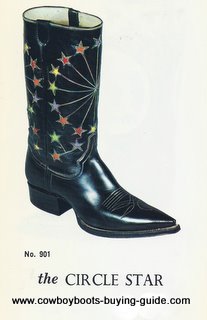 Some of the Top Brands of Cowboy Boots are:
Click on any of the above brands for more information.
Click here to Return from Mens Cowboy Boots to Cowboy Boots Buying Guide.com Homepage