The Best Cheap Cowboy Boots
Looking for Cheap Cowboy Boots for Sale?
We'll help you find the Best Cheap Cowboy Boots for kids, women and mens leather cowboy boots.
We have divided them into different categories that will fit your requirements.
Most good manufacturers have a low priced line that usually fills the quality needs of  western boots buyers.
Also, some of these makers offer seasonally discounted cowboy boots at various times of the year.

---
Where to Buy Cheap!!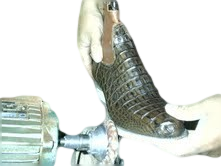 You can learn here about:
styles

leathers

skins

construction 
Usually, if you are looking for nice well constructed cowboy boots, that are cheap and bargains, your best bet is standard cowhide, horsehide or man-made materials.
We'll review the manufacturers that have good discount western boots.
We'll give you the skinny on the standard U.S. based makers like:
Tony Lama

Justin

Lucchese

Dan Post

Cowtown

Acme

Etc.
These are superb cowboy boot makers for men's, women's and kid's cowboy boots and have a wide variety of prices through authorized sellers, resellers and outlet stores.
---
Another inexpensive way to find good values is to consider quality used cowboy boots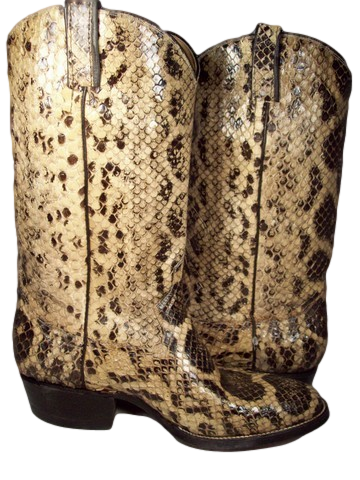 Used cowboy boots because of their usually solid construction frequently can be recycled to the enjoyment of more than one owner.
We will keep you informed of places where you can find cheap cowboy boots online like eBay to find superb bargains.
Just sign-in on one of those auction style websites and write in "used cowboy boots" in the search section to find great buys.

When you go online try to look for eBay sellers or similar that have a 95+ Positive Feedback with a large amount of pairs sold which means they are reliable and can fit you long distance.
---
Mexican Cowboy Boots are Cheaply Priced!!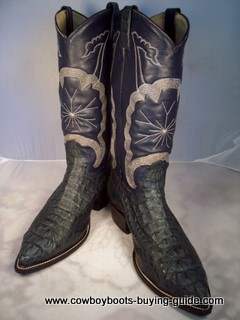 An old standby for knowledgeable buyers are Cowboy Boots Manufactured in Mexico These are good quality cheap cowboy boots manufactured across the border by well-established makers that pass on the savings of lower manufacturing costs to buyers.
Mexican made cowboy boots are great quality and, if you know where to look, an excellent source for discount cowboy boots.
Mexico is an established maker of good cowboy boots at moderate prices. They have been doing this well for close to a hundred years. In fact, most of the top manufacturers in the U.S. employ mostly Mexican artisans to make our cowboy boots in this country.
Now is not a good time to wander across the border in search of Mexican cowboy boots. We´ve got great contacts there can ease the process of buying them.
For more information on how to get Mexican Cowboy Boots:
---
If you are looking for some particular bargain and can´t find it, let us know what you want and we´ll do the shopping for you.
We´ll present a couple of options for you. No strings attached and no obligation to buy.
Just fill out the easy form below and send it to us with your wishes.