Why Dan Post Cowboy Boots?
and where to buy the boot that is so well liked.
Dan Post Cowboy Boots are very popular with western boot enthusiasts. Know why they are so well liked? Want to find where to get the best deals from reputable sellers?
DP Cowboy Boots
are relative newcomers in the western wear community;
they were introduced in the mid-1960s
. The DP Boot is known for their
"Handcrafted Cushion Comfort."
They have developed a method to make a boot that is comfortable to wear from the first step. They have made a boot that needs the minimum of breaking in. Their cowboy boots are crafted with the finest exotic skins and premium leathers.
They use special materials to ensure that their boots are comfortable from the first step.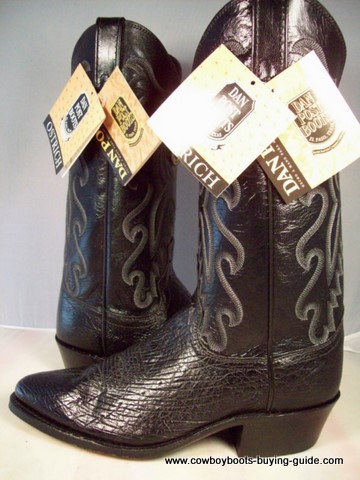 In our experience, you
can't go wrong with this brand of western boots
. The pictures on this page are actual DP's that we've sold through our retail outlet.
All our feedback from them on these DPs is excellent. We feel very comfortable in recommending them.
Although we have not had direct experience with
DP Certified
, we feel that if they are manufactured with the same care as their regular brand, you should be certain of getting a top quality boot.
DP Cowboy Certified Boots are made specifically for the working cowboy and cowgirl
. They are made "for the stirrup, for the range, and for people with a real love of our western heritage, there is no pretense about these boots or the people who wear them".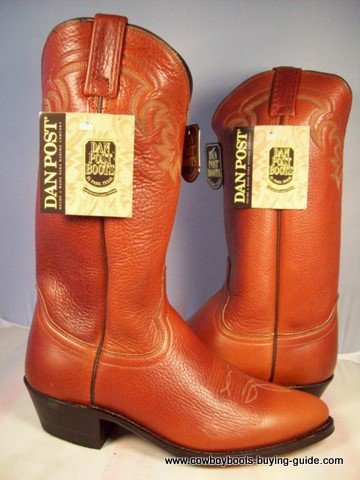 This company markets and distributes men's women's and children's footwear under the brands Dan Post, Dan Post Cowboy Certified, Laredo Western Boots, Dingo, McRae Industrial, and is the authorized footwear licensee for John Deere and original Johnny Poppers boots.
---
We have looked through our reliable sellers and have picked the following for their top quality line, service and ease of buying. Below you will find the best prices and sellers of DP's. These sellers will accept returns so you can be sure of being satisfied.
Be sure to use the scroller at the bottom so you don't miss anything OR CLICK ON ANY OF THE PICTURES ABOVE TO GO TO THE FREE STANDING STORE

---
Click here to go from Dan Post to Cowboy Boots Buying Guide.com
Click here to go back to Mens Cowboy Boots