Vintage mens Garner Moss Cowboy Boots FOR SALE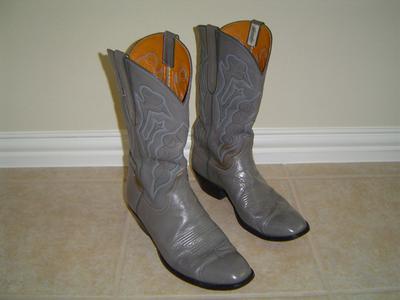 $175 OBO plus shipping. Gray/Kangaroo, 11.5 D. These are my personal boots which have the original outsoles and Cat's Paw heel pads. They are supple, comfortable, without cracks, cared for and low wear. There are a few scuffs in the rear from driving. There is some browning on the lower shafts; see photos.

History: Garner Moss founded his boot company back in the early 1980's in El Paso, Texas. He was a bootmaker for over 37 years, originally starting his long career with the Acme Boot Company. An economic downturn forced the company's closure around 1989. His boots were sold worldwide, including a very strong market for vintage boots in New York City, Paris and Tokyo. More modern stlyes were popular in Texas, Oklahoma, etc. Clients included many celebrities, such as Arnold Schwarzenegger and Jim Drury. To this day, his boots are a collector favorite.

Below are the photos. Contact maxmitchell@excite.com for more information.
Join in and write your own page! It's easy to do. How? Simply click here to return to Used Cowboy Boots Information Exchange.