Used Cowboy Boots....we'll show you the top spots to find and pick the them.
You can also sell your cowboy boots by scrolling to the bottom of the page for FREE by filling out the easy to use form..

They Keep on Giving..
Used Cowboy Boots: its hard to find them. Read on to find the best spots for used cowboy boots for sale. We'll share how to get super deals.
We'll also look at womens used cowboy wear and used kids cowboy boots.
Don't know what used conditions are acceptable? We've got you covered there too.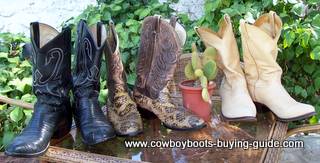 If you are one of the growing enthusiasts who like to collect or decorate with old boots and antique western gear click here.

Sell your Old Boots.
We'll show your used boots and send on the interested parties' information to you or we might buy them directly from you.
Used online cowboy boots are plentiful and usually, because of competition, at good prices.
Used womens cowboy boots, for example, are usually difficult to find in such variety at any other place than on eBay.
PreOwned cowboy boots for sale is a good part of cowboy boots sold on eBay.
Just be sure you pick out a seller on eBay who has 95% plus in Positive Feedback.
The reason is that they've got the experience to fit you long distance, have good price, good selection and will take back a used cowboy boot that doesn't fit.
We recommend you look at this seller on eBay. They meet all the criteria mentioned above for super deals on a used cowboy boot.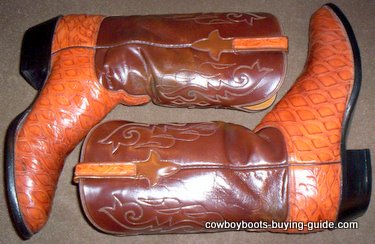 Used Pair of Anteaters Sold on eBay
---
What condition is OK to buy pre-worn Cowboy Boots?
The outstanding thing about a pre-worn cowboy boots is that they last so long.
Usually a decent cowboy boot that is used will show little wear other than the sole. That can be fixed readily at any good shoe/boot repair shop.
The only other part that might break is the pull strap but, again, this can be fixed easily.
You be the judge.
Unless it looks beyond salvation, used cowboy boots can be worn happily for many years with little care.
---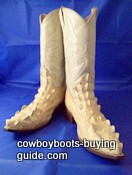 Used Pair of Outrageous Hornback Alligators
What should you look out for when fitting a used pair of cowboy boots for sale?
Just remember that boots, including womens pre-owned cowboy boots and used kids cowboy boots, wear a little different than regular shoes.
They should fit a bit snug at the instep: that's how the boot stays on.
Also be sure you're aware that the heel usually has some play and doesn't fit as close as a shoe.
But you are the final authority on what feels best: go by that.
---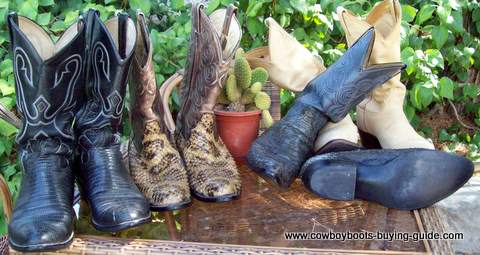 Where else can you find used mens, kids and womens cowboy boots?

We're in the Southwest so we have access to a larger amount of places to find used western shoewear.
Depending on your area, you can try flea markets, newspaper ads, garage sales, craig's list, etc.
Below you'll find a place to tell us about your own experiences with Old Cowboy Boots on Your Own Web Page on our Website, also you can let us know about neat places to find them in your neck of the woods or you can even offer your boots for sale.
When you send in your experiences DO SEND US your email address in the copy so we can communicate with you. If you have recently sent us information PLEASE send us your email address to: info@cowboyboots-buying-guide.com so we can ask you a few clarifying questions. Thanks...
---
Used Cowboy Boots Stories You Want To Share with Us?
Do you want to share a story of a great pair of Used Cowboy Boots?

Do you want to share where to find them in your area?

Do you want to sell your Used Cowboy Boots? *FREE*

Note: "It will be the seller's responsibility to conduct all aspects of the transaction including shipping. Cowboy Boots Buying Guide.com assumes no responsibility for outcome of the transaction. We will serve only as an intermediary."


Share with us!!
What Other Used Cowboy Boots Lovers Have Said
All comments below are from Used Cowboy Boots Enthusiasts like you that visited this page.

Click below to see contributions from other visitors to this page...

Click to go from Used Cowboy Boots to Cowboy Boots Buying Guide.com Homepage