Mexican Cowboy Boots
are really a great buy.
Mexican Made Cowboy Boots
have a tradition going back
hundreds of years
Mexican Gators
Mexican Cowboy Boots are really a great buy.
Boots made in Mexico have a tradition going back hundreds of years. According to Laura Morelli, writing in National Geographic Traveler, "The Mexican vaquero tradition helped shape the development of the boot that 19th-century Anglo cowboys wore while herding the cattle across the central and western states."
Western Shoe Wear made across the border is made with all the craftsmanship accumulated from all those many years of making quality inexpensive cheap boots.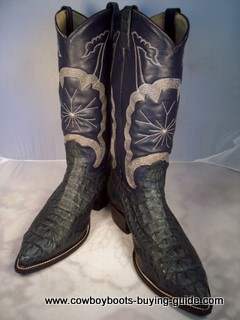 Blue Gators Made in Mexico
Picking the best pairs without knowing the brands or Mexican Bootmakers is tricky if you've never had experience with this market.
You'll have a chance here to review the best Mexican Made Cowboy Boots
You can tell us what you're looking for and we'll get you all the information you need on top quality Mexican boots.
We've drawn up a handy form below you can fill out and we'll either get you in contact with reputable Mexican Bootmakers or we'll get the boots for you
ourselves.
How's that? Just fill out the form below to let us know how we can help you.
Click to go from Mexican Cowboy Boots to Cowboy Boots Buying Guide.com

Click here to go back to Cheap Cowboy Boots