Used cowboy boots for sale
are hard to find. Get all the information here...
---
Used cowboy boots for sale are hard to find in some geographical locations.

Get all the information here to find inexpensive and premium mens, womens and kids used cowboy boots on sale.

Find the western shoe wear you are looking for through traditional and unique methods.

When we speak of traditional places to buy we refer to

eBay, flea markets, craig's list and the all familiar garage sale.

But then you might not live in an area where there is an excess of used cowboy boots for sale.

.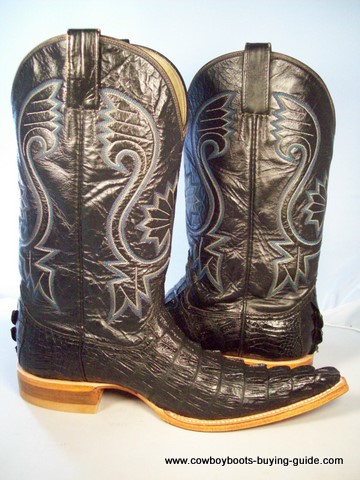 In our geographical region we are lucky because a large amount of the population wears them and is constantly selling and buying new ones. Our warm summer weather is no obstacle to wearing boots year round.
---
So now you know where to find western boots at the regular places like garage sales and the like. But where can I go if there are a shortage of used cowboy boot for sale or I can't find the ones I am looking for in my area?
We've come up with a service: an exchange for used cowboy boots. You can come here to sell your old ones and find the ones you are looking for.
If you can't find them at the exchange then you can place a free ad here detailing what you are looking for.
To Sell your old boots send us pictures and details and WE'LL BUILD A PAGE EXCLUSIVELY DEDICATED TO YOUR BOOTS. So you can sell them quickly.
Please include your email in your text or if you want more privacy send it to us separately through our "Contact Us" and we'll let you know who to contact.


Used Cowboy Boots Stories You Want To Share with Us?
Do you want to share a story of a great pair of Used Cowboy Boots?

Do you want to share where to find them in your area?

Do you want to sell your Used Cowboy Boots? *FREE*

Note: "It will be the seller's responsibility to conduct all aspects of the transaction including shipping. Cowboy Boots Buying Guide.com assumes no responsibility for outcome of the transaction. We will serve only as an intermediary."


Share with us!!
What Other Used Cowboy Boots Lovers Have Said
All comments below are from Used Cowboy Boots Enthusiasts like you that visited this page.

Click below to see contributions from other visitors to this page...

wholesale cowboy boots m-f

100 pairs leather boots m f all sizes all different some vintage lots of 20 or 25 @ 13.00 a pair call 305 303 4101. miami fla
Want to sell ladies white cowboy boots Not rated yet
Bought @ Cavenders western wear . Worn 1 time @ my wedding :) they are white Laredo 6 1/2 medium great shape have been in box . Would like to sell for …
Looking to buy Not rated yet
I am looking for high tops used red on top and brown foot. 6 1/2 chainsaw@robinsoncarving.com
Justin Stampede cowboyboots 9B women Not rated yet
Boots have been worn couple of times, they are in good condition. $110 check them out on ebay (: item.mobileweb.ebay.com/viewitem?itemId=261227454522&index=6&nav=SEARCH& …
I have two pairs of Los Altos Blue Jean Ostrich Leg Cowboy Boots Not rated yet
Pastor of a Church, only wearing the finest Boots and shoes. There are two pairs Blue and Rust. Almost new. Both in great condition.$100.00 per pair OBO. …
Bought a pair in Nashville - only worn once! Not rated yet
I bought a pair of boots when I was in Nashville last year, but I've only worn them once! I paid $200.00 for them but would take the best offer on them! …
Just a nice pair I dont wear anymore! Not rated yet
Durango cowboy boots bought from RCC in new condition a few years ago, only worn a handful of times. They are in great condition still! Retail for $150. …
Lucchese Men's Boots Not rated yet
I bought this beautiful pair of oxblood-mahogany Lucchese boots (Size 11D) in Fort Worth more than 30 years ago. I've only worn them on special occasions, …
---
If you want to contact us to send us your email privately or for any information you might need, fill in the form below.....
---
Click to go from Used Cowboy Boots for Sale back to Used Cowboy Boots

Click here to go back to Cowboy Boots Buying Guide.com Homepage